An interview with Bhavishyaa Vignesh 
Meet Bhavishyaa Vignesh, a 12-year-old student, active CAGIS member, and space enthusiast! Bhavishyaa recently participated in the Canadian Space Agency's first Space Brain Hack, a nationwide competition that challenged students to come up with solutions for maintaining mental health while in Space. Bhavishyaa rose to the challenge and was awarded the Grand Prize in the grade 6 to 8 category! 
Tell us about your involvement with CAGIS. How long have you been a member?
When I was eight years old, I was interested in a lot of things. My mom took me to my first CAGIS event in 2019. It was a Junior Astronauts challenge. It was a session I will never forget because it is how I found my passion for Space. Over the past four years, I have volunteered and attended many CAGIS sessions, such as the Blue Sky Solar Racing, Woodcarving, and Extracting DNA events.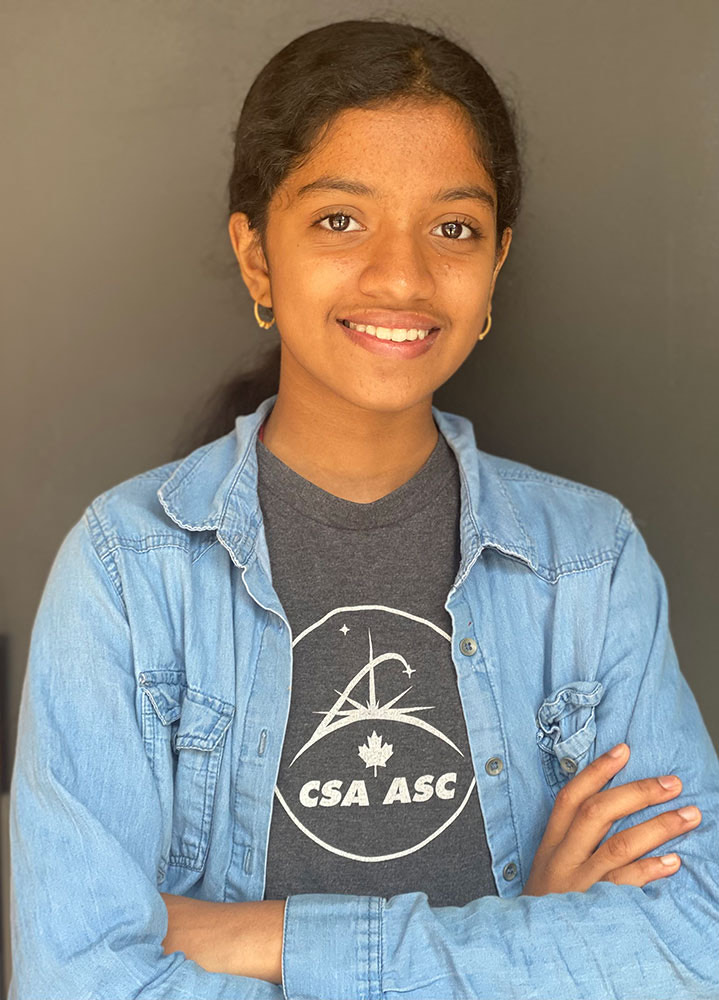 You recently won the CSA's Space Brain Hack challenge. Tell us about the contest.
CSA asked kids (in my case, students in grades 6 to 8) to find a solution for helping astronauts keep their mental health stable while they spend long periods in Space. They were looking for something to help fight depression and anxiety. Designing something was an amazing experience, and I learnt a lot. After intensive research, I was able to build a prototype.
Tell us about your winning design!
I created a prototype called PeaceMaker. Peacemaker is a Virtual Reality headset. Before travelling to Space, PeaceMaker would allow astronauts to enter their preferred environments and favourite places that keep them calm and relaxed here on planet Earth. During the mission, if depression strikes, they can use the headset to calm themselves down by using PeaceMaker to enter a virtual simulation of one of their favourite places. They could even visit their own home! I also made sure to use realistic elements like sound.
The headset would have three (or more) buttons visible during the immersive experience, which would allow the astronauts to choose the location they want to visit – one of the environments they downloaded before the mission.
Finally, using brain wave analysis, PeaceMaker would also be able to detect if an astronaut is getting too emotional. If it senses this, it will automatically take the astronaut to a calmer environment.
Why do you think it's so important for astronauts to maintain their mental health?
When someone is working, they must be focused. Astronauts have a very important career. They help explore outer Space! Being hundreds of thousands of kilometres away from their families and being away for a very long time can easily affect their mental health. It can cause them to be emotional and depressed, which could mean they won't be able to stay focused on what they came to do. It could also mean that they won't enjoy the amazing experience of space travel!
Do you see yourself pursuing computer science?
100%. I'm trying my best to be involved in coding and Space alongside my school studies. I want to pursue Aerospace Engineering.
If you could meet the Artemis II crew, what would you tell them?
There would be so much to ask! But if I had to choose, I would learn about everything they have been through to get to where they are today. I enjoy hearing about people's personal experiences. I would have goosebumps even talking to them! They are about to witness something that many will not in a lifetime.