By Shabad Kaur, 17
CAGIS Alum
Shabad Kaur, a CAGIS Alum, was one of only three youths chosen to participate in the Department of Fisheries and Oceanography Youth Internship Pilot Program.
I have been fortunate to have access to amazing opportunities through my involvement in the CAGIS Teen Ambassador program.
In addition to working with a national team of ambassadors who inspire youth, I received guidance on how to get involved with STEM locally in Halifax. It was through CAGIS that I learned about the Department of Fisheries and Oceanography (DFO) Youth Internship Pilot Program. I immediately wanted to apply and received a letter of reference from CAGIS to support my application.
Although I love biology and want to learn more about the Atlantic Ocean, especially in my local community, I did not have the option to choose elective science courses such as Oceans 12 in high school. Instead, my high school biology course focused on plants, people, and microorganisms. I was also curious about what working for the government is like and what the training aspects would be. The Youth Internship Pilot Program was an incredible seven-week internship in which I worked with many experienced professionals and gained knowledge of various federal jobs within the DFO.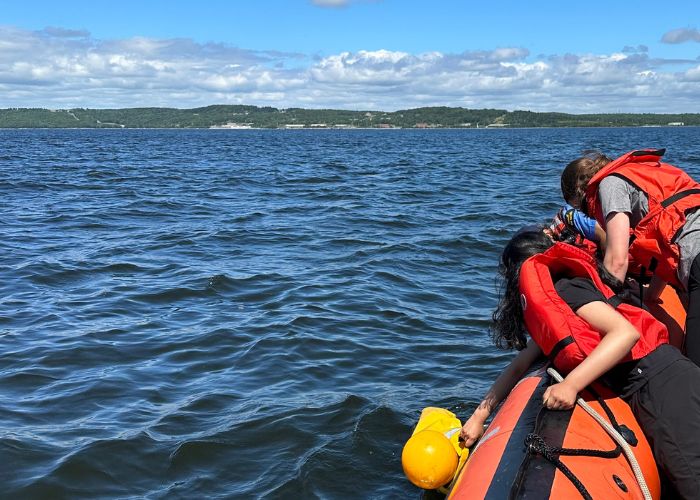 During the first week of the internship, I toured the Bedford Institute of Oceanography, the largest ocean research centre in Canada! I also received extensive workplace training, including Marine First Aid. The second week was called 'DFO Nature University'. We learned all about topics related to marine organisms. The DFO Nature University was a great way to introduce fundamental scientific knowledge that was very helpful throughout the remaining weeks of the internship. It was quite distinct from the science we are taught in school! We learned about hydrothermal vents, salmon migration patterns, and remotely operated vehicles used in ocean research. 
For the rest of the internship, we worked with a different department each week, including the deep sea lab, aquatic sciences, DFO engineering and technology, Canadian Hydrographic Services, the GIS systems team, Canadian Coast Guard, Ocean Technology, and much more. One week, I was able to plan a cruise track line with the GIS (Geographic Information System) team using a software called ArcGIS Pro that uses information about the depths and mapping of the ocean floor to safely lead a ship on its voyage.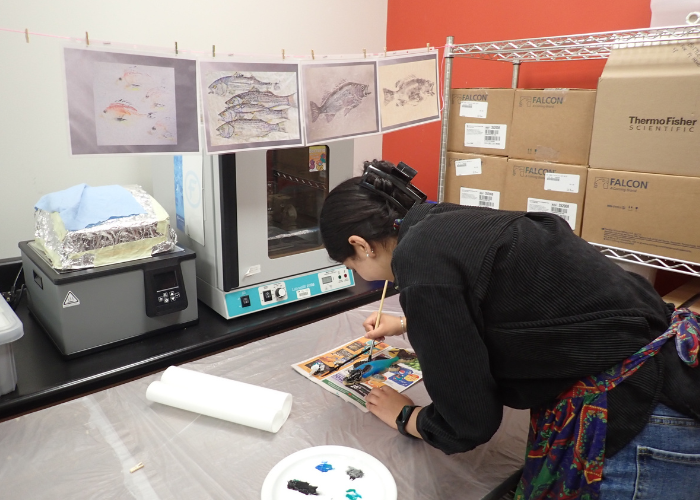 There was also a field work component, which was very enjoyable. We visited restoration sites, historic indigenous petroglyphs, the sea basin for water and zooplankton sampling, and even rescue demonstrations in the Bedford Basin by the Canadian Coast Guard. Being exposed to such a wide range of professions was eye-opening and demonstrated the diversity of science within just one area of government. One day even included an artistic component: we did an activity called Japanese fish painting which was used hundreds of years ago to document fish size and shape.
Overall, my internship with the DFO was a trip of discovery, an opportunity to delve into the depths of an organisation dedicated to protecting our seas. The departments I worked with expanded my awareness of the delicate balance required to conserve our marine ecosystems while also considering the demands of communities and businesses. The program demonstrated the power of interdisciplinary teamwork and the value of hands-on experience.
I am very thankful I was a part of this opportunity and grateful that CAGIS keeps broadening girls' horizons by providing endless possibilities and exposure. I am excited to continue with CAGIS as a volunteer coordinator with CAGIS Halifax as I enter university at Dalhousie this fall!