CAGIS Teen Ambassadors and grade 10 IB students, Bianca and Daniella Almeida, have taken the initiative to bring their passion for robotics to their secondary school. The twins joined CAGIS in 2015, and have been Teen Ambassadors for the past three years. 
Bianca and Daniella both have a passion for STEM because of the wide variety of subjects they can explore and the valuable skills they can develop. "From healthcare to astronomy, chemistry to robotics, STEM includes such a diverse range of topics!" says Daniella. 
The sisters' interest in robotics began with CAGIS when they participated in the FIRST LEGO League (FLL) as members of the CAGIS Oakville team.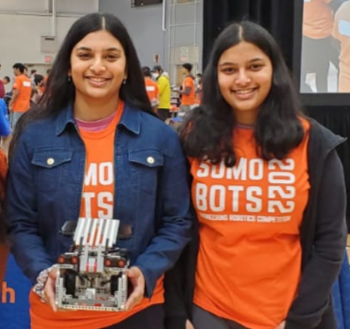 From grades 6 to 8, they were also a part of their elementary school FLL team and had the chance to work on amazing projects including building and programming LEGO Mindstorm EV3 robots to autonomously navigate missions of the robot game. They competed at the provincial level and were the recipients of several awards, including the FLL Rising Star award!
In 2019, the girls participated in Skills Ontario. Daniella's team competed in the LEGO Robotics Challenge, and Bianca's team competed in the LEGO Mechanical Engineering Challenge. Both teams won 1st place in the province.
Through robotics, they were able to develop vital STEM skills and foster a sense of community with like-minded friends, which is exactly why Bianca and Daniella wanted to bring robotics to their high school. 
After presenting the idea to their school's technology teacher who was excited to support the initiative, Bianca and Daniella got to work. They launched a robotics club for students in grades 9 to 12 with the goal of creating a fun and interactive space, just like the two have at CAGIS and had in their elementary school robotics club. The club meets weekly to learn coding and building, collaborate with peers who have similar interests, and participate in competitions. 
This past November, their team participated in the Engineering Robotics Competition at Ontario Tech University. They were awarded Best Engineering Design for their robot design and final report. Currently, the team is exploring VEX Robotics.
Through this initiative, the sisters have learned the importance of providing their peers with opportunities to engage in robotics and develop skills in STEM. Bianca sees this club as a launching pad for her peers to explore their interests. "Through robotics, students are able to grow their interest in STEM and open doors to pursue robotics as a hobby or career. This sparks an interest to solve real world problems using STEM and brings a positive impact in their community."