Coding through COVID-19
Bhavishyaa Vignesh — known to her friends as Bhavi — is in Grade 4 in Oakville, and she loves coding A LOT. A certified Scratch and HTML coder, she's currently learning JAVA. Now she wants to teach other kids to code, too.
The COVID-19 shutdown was the perfect opportunity for Bhavi to take her expertise to the community, so she held coding camps to teach kids all about Scratch, which is a block-based coding language developed at MIT. Eventually, kids ages 5-12 from Canada, the US, Africa and India attended her online camps.
But that's not all she's been up to. Here, we talk about her coding camps, the fun of participating in hackathons, and her plans for the future.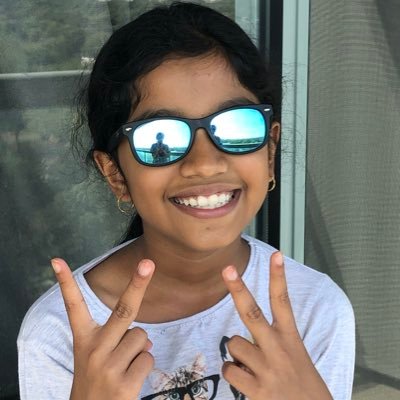 What got you into coding?
When I was little, I had a small robot ball that my parents bought. I'd use my iPad to change its colour and control where it moved — and that's when I realized that coding could be a lot of fun! Now, I mostly use Scratch — it's my favourite coding website to go to. It's a great way to start off your coding journey, because all you have to do is drag and drop blocks to create projects.
What do you like about coding?
When you play a game, you have fun but you don't get the feeling that you actually created the game — so it's really cool to use your own creativity and your own ideas to crate your own game. Anything is possible with coding!
Tell me about the coding camps
It all started when the quarantine began, and my mom and I were discussing ways to contribute to our community. We decided that we wanted to hold sessions to teach kids about coding on Scratch. We started with friends and family, then the camps spread out to kids all over the world.
I taught more than 25 kids this summer, and they all presented projects they'd worked on in Scratch. It was cool to see everyone's creativity — it was exciting to see how they changed up projects to create something all their own.
Earlier in the summer, you entered a Young Change Agents challenge. How did that go?
Young Change Agents tweeted about a challenge to develop a prototype to help solve a problem — and I love STEM challenges, so I thought, "OMG — this is so cool! This is totally my thing!" Actually, the challenge was for 10 to 21 year-olds, so I had to get permission to participate — but they seemed pretty excited that I was nine.
My project was a prototype for an app called Farmer's FriendZ, and it had two parts: finding nearby farmers based on the user's location, and arranging drone delivery of what they're selling. My mom and I worked together — I did the design and the coding, and she helped me with everything else. We're kind of like partners — she's definitely my role model! It was cool to work on solving a big problem in the world — me and my mom like to discuss global problems and how to solve them, so this was a great opportunity to come up with a solution. And my project got Highly Commended, which was like being a finalist!
What are some of your favourite coding competitions?
My favourite is NASA Space Apps. I submitted Farmers FriendZ to that as well. I also submitted different projects to Coolest Projects.
Any other projects you're proud of?
I created my own website in HTML — I put all my achievements on there. It was super duper cool to learn a new [programming] language. I really wanted to create a portfolio for myself, and creating a website was a great way to connect that with actually building the website.
What's next?
I'm going to create Scratch sessions for girls, to teach them coding — I got inspired by CAGIS! I want to make sure that girls are able to code and do STEM in the future.
Watch Bhavi do 5 DIY science experiments for CAGIS at Home on YouTube: