Meet Julie Legault
Julie Legault is the founder of Amino Labs, a company that makes, among other things, genetic engineering kits for budding scientists to use at home. She's super enthusiastic about science — but she didn't take a traditional route to get where she is.
Instead, Legault, who lives on a farm in Lethbridge, Alberta, has degrees in design and goldsmithing. She only got into science in her 30s, after participating in a biohacking event with the MIT Media Lab, and eventually setting up her own mini biotechnology "makerspace."
"A lot of people were negative about what I was doing because I wasn't a 'real scientist,'" she says. "But every scientist starts as a beginner — you have to start somewhere! Science, if it's done well, can be a wonderful, positive thing."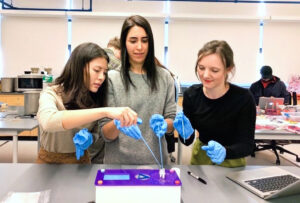 Fast forward to today, and Legault now runs Amino Labs, a company that encourages budding scientists of all ages to get into biotechnology and genetic engineering through creative, fun kits — like painting with bacteria, or extracting the DNA from fruit.
Legault says science is for everyone who's curious and passionate about pursuing knowledge — no matter how much experience they have. And, she points out, science is a lot more creative than people might think.
"I didn't take a traditional route into science, but I discovered that science can be very creative — I just didn't realize that when I was younger," she says. "You can use science to make creative and new things in the world — you can be in fashion design, and still be a scientist. I think all the jobs in the future will need a little bit of science."
Julie Legault will be doing online sessions on DNA extraction as part of CAGIS Virtual on Saturday, October 3. Go to the CAGIS Virtual page for more details.