By 
CAGIS
Meet Christine Song at CAGIS
"When I was a kid, I wanted to be a veterinarian. Now, I am an environmental scientist and the Virtual Outreach Coordinator and STEM Communicator for CAGIS"  
In our last issue, we shared the story of CAGIS and our founder Larissa Vingilis-Jaremko, and invited everyone to share #MyJourneyInSTEM stories. We were overwhelmed by the response! Now, we're shining a light on another member of the team, Christine Song, whose journey to CAGIS led her through a jungle of monkeys! 
Many of you may know Christine from our weekly CAGIS Virtual programs. She connects with STEM experts across Canada to develop and deliver fun, hands-on, live activities to CAGIS kids every Saturday. What you might not know, is that she is also an environmental scientist, STEM communicator, coordinator of CAGIS Teen Ambassadors, and the key contributor to our fun, newsy, and highly engaging social media posts. 
Christine joined the CAGIS staff team in 2021. Thanks to our generous donors, partners and grants, CAGIS has been able to grow and adapt to changing times, allowing inspiring people like Christine to expand CAGIS' award-winning programming online.
Christine's Journey in STEM
Christine has always loved animals. As a young girl, she thought the only way to work with them was to become a veterinarian. However, after actually working in a vet's office for three years, she realized it was not the right career for her. University opened up new possibilities:
"In undergrad, I learned that I could work with animals without being a vet. I took many ecology and primatology courses, leading me to do research in the lab and field in Alberta, BC, Belize, Cuba, and Malaysia. I researched microorganisms, anemones, and monkeys, focusing on animal behaviour and intraspecies interactions."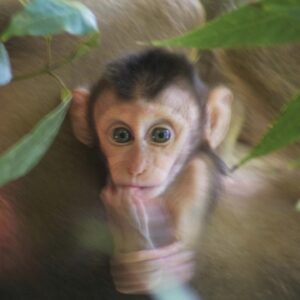 After completing her undergraduate degrees at the University of Calgary, she did an internship in Malaysia studying southern pig-tailed macaques. The monkeys live in matrilineal groups, and she studied the behaviours of the monkeys within a group and between different groups. It was then that she knew for certain – she wanted to be an environmental scientist.
"During my master's degree at the University of Toronto, I realized that as much as I love conducting research, I loved communicating science even more. I wanted a career where I could share my love of animals, nature, and science to inspire others to take action in conserving the planet."
What has been your favourite part of the job?
My favourite part of my job is being able to connect with youth across Canada to help inspire them in STEM. I look forward to my Saturdays because I get to run the CAGIS Virtual sessions, where I get to spend time with youth and also learn about different STEM areas myself! I truly learn something new every day, and I am so grateful to be able to work and collaborate with amazing people!
Do you still connect with animals in the real world? 
I am always looking for ways to spend more time with animals!  Almost every weekend, I visit a local wildlife reserve where I enjoy looking for and taking pictures of wild animals. I also currently volunteer with a local cat rescue, and I recently started fostering animals. I currently am caring for 3 gerbil sisters!
What's something CAGIS members might not know about you? 
I'm a crocheter in my free time! I've crocheted items in the past, but it never really stuck as a hobby until earlier this year. I'm currently working on a temperature blanket, where I crochet one row of the blanket per day according to the average temperature of the day. It lets me combine my crafty-side and my science-side! I have also been crocheting a lot of animals.
What advice do you have for future STEM experts?
My advice for future STEM experts is to keep your options open and explore all things that interest you! My openness to explore new interests has led me to find fulfilment in my life and to where I am now. When I reflect back on my experiences, it is the ones that seemed insignificant in the moment that had the most long-term impact on me.