An Interview with Erin Richardson
Erin Richardson is a CAGIS Alumnus and aerospace engineering student at University of Toronto. We spoke to Erin for our #InspiredByCAGIS feature where she takes us on the journey towards her dream of becoming an astronaut. Her dream which she has was harboured since the 9th grade was fueled by her fascination with space. As Erin puts it, "we are all so small compared to space, and there is so much to explore!"
After setting her heart on becoming an astronaut, nothing was going to change Erin's mind.  She started looking into what her big dream would entail, and what she needed to do to be successful. She worked backwards, understanding the career path required to become an astronaut and taking small steps in the right direction towards achieving her big dreams. She took up math and science in high school, knowing these would be pre-requisites for her to enter engineering programs. Erin also discovered the connection between military pilots often working in space due to the skill sets developed to navigate a plane under high-pressure situations. With that information, Erin knew what she had to do and as soon as she could, she began flying lessons. Today, she holds a student pilot licence, and jokes that she started flying a plane before she could drive a car.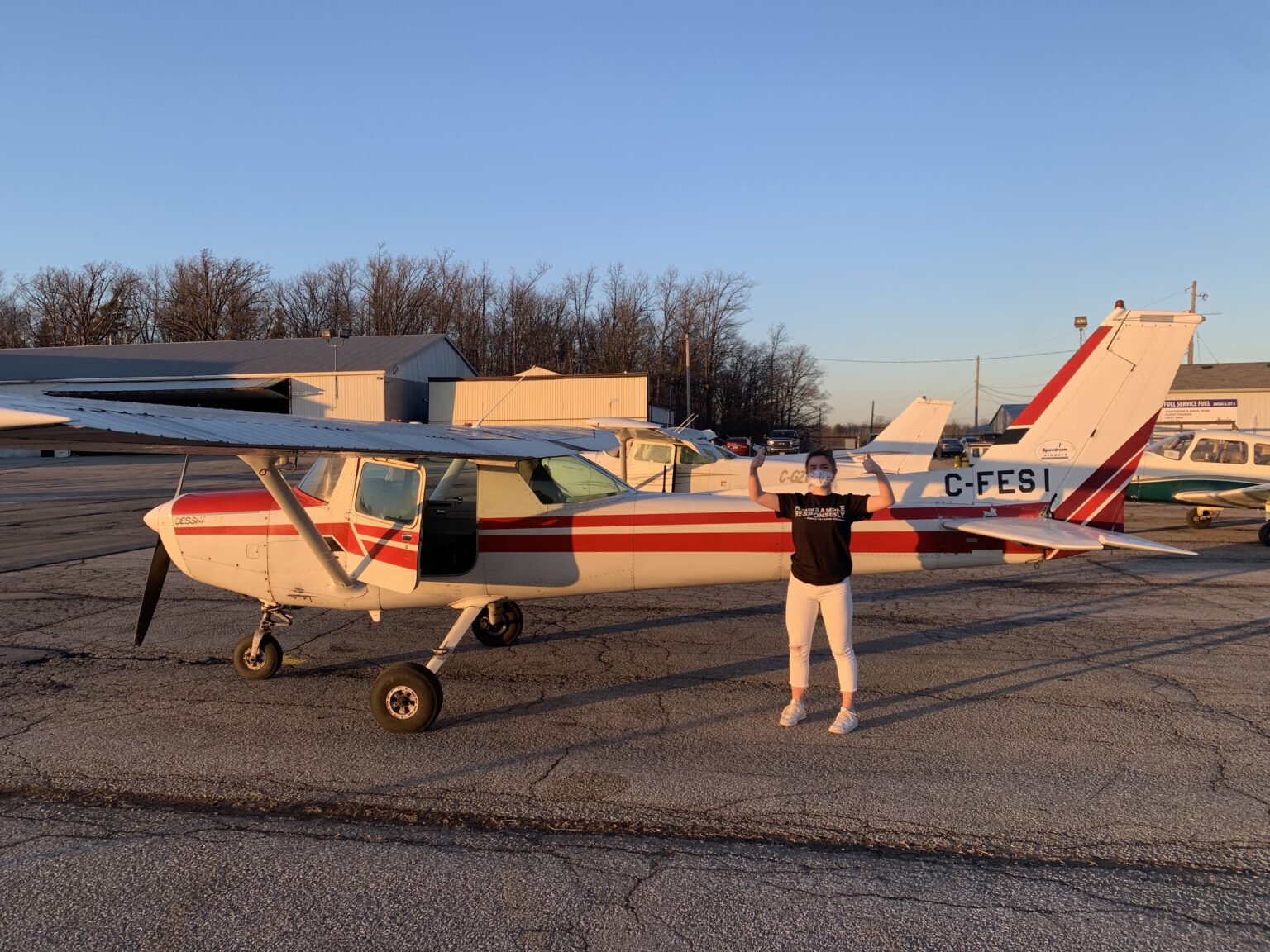 Having received a full scholarship to study Engineering Science at University of Toronto, just like any other girl transitioning from high school to university, life was not always easy. She often felt overwhelmed with the intensity of coursework, doubting her ability to succeed. However, with time and patience, she realized that it was okay to not know how to solve a math problem, or have to re-read an entire chapter before understanding it. Accepting this helped her overcome the challenges she faced in the first year of university.  
Erin continues to look for opportunities to get involved in her field of interest. During her first summer at U of T she completed an internship at the STARS Laboratory (Space & Terrestrial Autonomous Robotic Systems). During her second year, she undertook an internship in Tasmania, Australia which focused on underwater robotics. This experience helped her understand designing for space, as both circumstances provide harsh and constrained environments. Both of these opportunities were organized and supported by the University itself, in which she proudly mentioned, "these experiences allow students to learn and understand what they like and what interests to pursue in their careers."
Erin's most recent and on-going experience is a sixteen-month internship with MDA. This has provided her with the amazing opportunity contribute to exciting Canadian space robotics work, including the Mars Sample Fetch Rover, Canadaarm3, and on-orbit satellite assembly.
Adding on to her responsibilities from these internships, Erin is currently spearheading a microgravity research project, leading a team of ten graduate, undergraduate, and high school students in collaboration with Students for the Exploration and Development of Space Canada, the Canadian Space Agency, and the National Research Council Canada. They designed an experiment to investigate the effects of gravity on the genetic regulation of human telomeres, and will be flying their project on a parabolic flight this August. Until she can make it into space, Erin has created an opportunity to bring space to her and try floating in microgravity herself!
One piece of advice Erin wants to share with all past, present and future CAGIS members is the importance of Mentorship. She strongly advocated for having mentors who have walked the path you want to explore. A mentor helps you see yourself where you want to be. Her own mentor of more than five years is Kristen Facciol, who inspired her work in space robotics and provided encouragement along the way.
Erin also emphasized that no matter where she ends up – on earth or in space – she will be happy since the work she does is exciting and fulfilling. She looks often to her idol Chris Hadfield for inspiring words and motivation.  One of her favourite quotes that she leaves us with is "Decide in your heart of hearts what really excites and challenges you, and start moving your life in that direction."